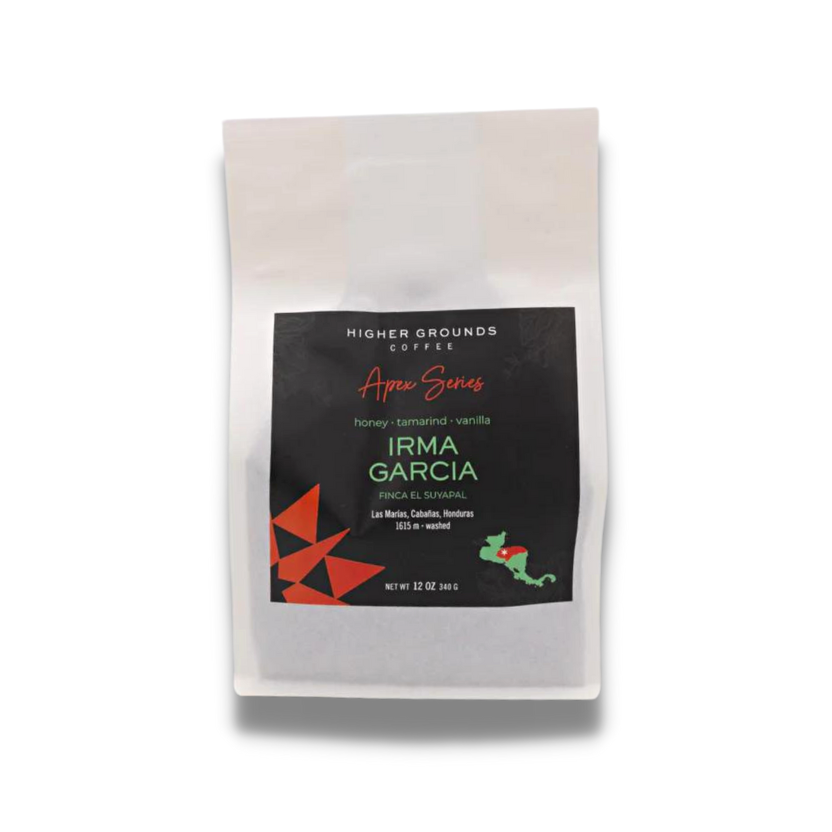 Cooperative: COMSA    
Location: Finca El Suyapal, Las Marías, Cabañas, Honduras
Processing: washed
Acidity: gentle       
Body: juicy
Flavors: honey * tamarind * vanilla
Elevation: 1615 meters       
Best brewing: filter       
Recommended ratio: 16:1
****
The COMSA Cooperative 
From Irma Garcia: "My name is Irma, I am a small farmer that made the decision to start growing coffee in 2012. I saw that most of my family was devoting itself to coffee, I figured that I should also own my own little coffee farm. So I started my own farm, thanks to support of my family and of God.
"By the 2015/2016 harvest I was harvesting my first coffee cherries. So by the following harvest, I joined COMSA and began to turn in my coffee cherries at the central wet processing facility. It wasn't until 2018 that with support of COMSA and trainers, I learned how to process coffees myself. I liked doing it myself because I was adding value to to my production. I also realized that turning coffee cherry to the wet mill was more expensive as I needed to incur the transportation costs of bringing wet cherry to the facility. 
"At COMSA we have learned that producing coffee is not about quantity but about quality. We have learned the importance of producing responsibly, to generate an income but not at the expense of the environment. Today I have my little farm where I can earn my bit of money, but also recharge. Before I would go to work and see how the harvest was progressing, today I will go there to breathe fresh air. It is something I've learned, to produce with love."
Washed Process
At Finca El Suyapal, harvesting is conducted according to the requirements set by COMSA, selecting solely cherries that are ripe and ensuring that no green, dry, damaged or or over-ripe cherries have made it into the batch. once harvested, the cherries are floated in water barrels in order to remove less-dense damaged beans. Floating the cherries also help to hydrolize the cherries.  The coffee then proceeds to the depulper. Once depulped it is piled in a fermentation tank. Once fermented after 12-24 hours, the coffee is washed with fresh water to be then dried off in a raised bed solar drier for 10-15 days.